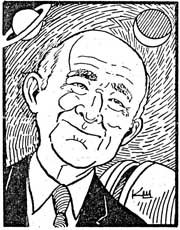 An Album of Photos
for Bill Hartkopf
in Recognition of his Retirement
on 31 January 2018
---
---
An Introductory Reminiscence
I
As it
--- Harold A. McAlister, Regents Professor Emeritus of Astronomy & Director Emeritus of the Center for High Angular Resolution Astronomy, Georgia State University and Director Emeritus, Mount Wilson Observatory
---
---
Photographs
Here are some photographs of Karel at various times during his life and at various places around the world and always accompanied by Harriet after their marriage in 1939. I would be happy to add more from contributing readers. Click on each image to see a larger version.
| | | |
| --- | --- | --- |
| Karel and Harriet in their yard at 216 Hillcrest Avenue on a beautiful spring Chattanooga day. (Borrowed from the website www.mikolasales.org.) | Karel attending a General Assembly of the International Astronomical Union in Prague, August, 1967. He is at the left end of the third row. Harriet is mostly obscured to his left. | A "headshot" of Dr. Hujer, probably done for UTC, dated February 1974 |
| | | |
| --- | --- | --- |
| The Hujer are seen standing on the third of fourth step of the right staircase in this group photo of the participants at the Symposium on the Tercentenary of the Royal Greenwich Observatory, July 18, 1975. | Karel as a young astronomer at the Yerkes Observatory c. 1928 posing with the Bruce spectrograph mounted on the Yerkes 40-inch refracting telescope, still the world's largest lens-based telescope. (from an article in an unknown Czech publication written by Dr. Hujer.) | Karel is chatting with Dr. Robert Atkinson of Indiana University at the Greenwich Tercentenary. |
| | | |
| --- | --- | --- |
| Karel and Harriet in front of their home on Hillcrest Avenue. Photo by H.A. McAlister, c. 1984. | Karel with the Indian poet and man of letter Rabindranath Tagore, who became Asia's first Nobel laureate with the award of the literature prize in 1913. Karel spent three weeks with Tagore in 1935. | Karel in his living room from a photo taken by the Chattanooga News Free Press, August 1987. This was Harriet's favorite photo of him after he died. |
| | | |
| --- | --- | --- |
| Dr. Hujer with Hal McAlister posing at the 20.5-in Jones Observatory telescope in 1967. | Dr. Hujer with his hand on the finder telescope of the 20.5-in Jones Observatory reflector in late 1960's. | A meeting hosted by the Barnard Astronomical Society of the Southeastern Region of the Astronomical League in 1965. The group is posing in front of Hunter Hall at the University of Chattanooga. |
| | | | |
| --- | --- | --- | --- |
| Dr. Hujer at the ancient Beijing Observatory in the 1930's. | Karel's famous ring shows up nicely in this formal pose from the 1970's. | Karel standing outside Hooper Hall at UC on Oak Street. His office included the bay window over his right shoulder. | Karel and Harriet from the early 70's. |
---
Karel Hujer's personality, demeanor and world view were beautifully captured in this poem by Edith Lovejoy Pierce:
To Karel Hujer
Countryless,
You are at home in the Pleiades
"Peace," you murmur,
Your eyes on Arcturus.
Your hands wander absently
Among the man-made evils here below.
War is but an artificial shadow
Against your sightless palms.
Starshine has painted with light
The clear lens of your face.

--- from In This Our Day, Poems by Edith Lovejoy Pierce, (Harper & Brothers: New York), p. 50, 1944.
---
Relevant Links
---
Launched: 5 Jan 2008
Updated: 8 Jan 2008
Reader comments, corrections and contributions are welcome: Contact H.A. McAlister