---
Personal Pages
---
The story behind my webpage pictures
Those that have visited my website more than once might have noticed that my picture changes (on most browsers, hold down the shift key while pressing the ``Reload'' button -- the images randomly change every hour). At CHARA, we set up our webpages in 1993. All the graduate students and staff were set up with a skeleton page. Every incoming astronomy graduate student gets his or her picture taken for the staff and students board. So for the skeleton webpages, the pictures on the board were taken down, scanned, and plunked into the appropriate page. This was my incoming mug shot: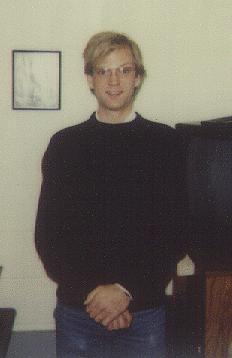 This picture was taken about 2 weeks after I started graduate school. It was my picture to the world for 11 years. A colleague of mine, Dave Berger, kept asking me when I was going to update my photo. In the spirit of ``I'll show him'', I decided to update the photo by pre-dating the photo. The things you will do when you're bored ...
---
Photo Albums
Our golden retriever, Outlaw Josey Wales.
The Santa Monica Chamber Philharmonia European concert tour, July 16-31, 2004. We visited the Czech Republic (giving concerts in Prague and Kromeriz), Poland (giving a concert in Krakow), Slovakia (just passed through), and Hungary (giving concerts in Tokaj and Budapest). A zip bundle of this photo album can be gotten here. It unzips into its own directory and pointing your browser at the index.html file will start the slide show. It is 26MB, so it might take a while to download.
Pictures from my brother Mike's wedding, 2005-11-12, Seattle, WA.
---